Return to Headlines
Amy Blalock Named Volunteer of the Month for May 2019
Amy Blalock Named GCS Volunteer of the Month
Northern Elementary School students receive hobby opportunities and build literacy skills
Greensboro, N.C. – Just when Amy Blalock thought she was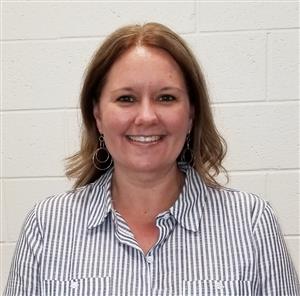 visiting Northern Elementary School for another extraordinary volunteer day, she was surprised by cheers and applause from district leaders, students and staff who were assembled in the media center awaiting her arrival. Greeted with big hugs and tears of joy, she knew this day was special. Moments later, Amy learned she was the district's Volunteer of the Month for May.
For the past 11 years, Amy Blalock has been a dedicated, enthusiastic and loyal volunteer at Northern Elementary School. Students know her as a familiar face since all three of her sons attended the school with the youngest moving on to Northern Middle School next year.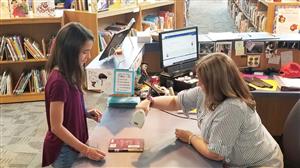 Amy has served as the Book Fair chair since 2014 organizing every aspect of the event from gathering an army of volunteers to decorating, handling finances, set up and break down. She donates her time and talent as the Parent Teacher Association (PTA) chair of Northern Elementary's Hawks Hobbies Club. During the spring and fall semesters, she coordinates over 30 school club activities for the school's more than 700 students. With her help, students receive a unique opportunity to enjoy a hobby such as lacrosse, rugby, sewing, bracelet making, coding and cake decorating. As the school's media mom, Amy helps at the circulation desk one day a week and ensures a volunteer is present every other day to assist. If there is a visiting author, Amy helps sort books, manages students during author signings and arranges lunch for guests. Amy also volunteers at Northern Middle and Northern High as well as on GCS committees.

"Her enthusiasm and love for each and every child in this school shows no bounds," says Barbara Farrell, media specialist at the school who nominated Amy. "She is so deserving of this recognition for all that she does to motivate and inspire our students," says Principal Dr. Robert Richmond.
As the GCS Volunteer of the Month, Amy Blalock was presented with a $50 VISA gift card, courtesy of Rice Toyota who has sponsored the program since 2013. During the month of May, her photo will hang at the district's central offices, Northern Elementary School and Rice Toyota Collision Center on Battleground Ave.