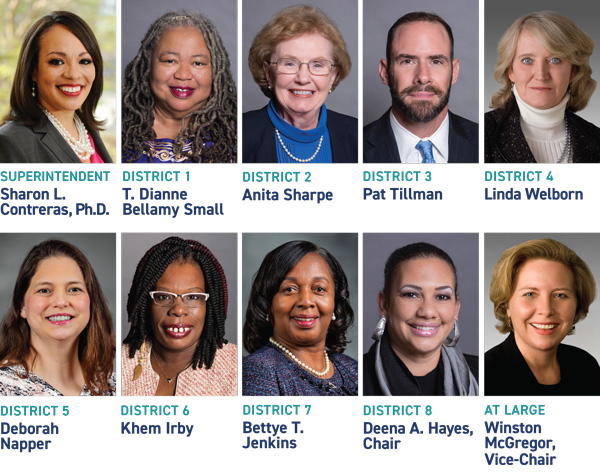 Board of Education
The Guilford County Board of Education is made up of nine members who are elected by citizens in partisan elections every four years. The terms are staggered to ensure continuity of service. Members establish policies that govern our school system, including its curriculum, facilities, financial resources and personnel. The board evaluates the district's achievement and monitors its progress, making sure that goals are met.

Every seat was up for election in 2016 under Senate Bill 317 passed in 2013. The bill redrew the Guilford County Board of Education district lines to match with the Board of County Commissioner districts, reducing the number of school board members from 11 to nine. The redistricting reduced the number of districts from nine to eight, and eliminated one of two at-large seats.

The at-large seat and even numbered seats (Districts 2, 4, 6 and 8) will serve two-year terms and go up for re-election in 2018. The odd numbered seats (Districts 1, 3, 5 and 7) will serve for four years to stagger elections. After the first term, the at-large and even number seats will serve four year terms.

The bill also changed Guilford County Board of Education elections from non-partisan to partisan races, meaning candidates must declare a political party to be in a primary. Otherwise they run unaffiliated in the general election.

Board meetings are generally held on the second Tuesday and fourth Thursday of each month at 6 p.m. in the Board Room located at 712 N. Eugene St., Greensboro. Dates and times are subject to change. Those wishing to address the Board of Education should call 336-370-8100 before 5 p.m. or arrive at the meeting site between 5:45 p.m. and 6 p.m. to sign up prior to the meeting.

Follow the Guilford County Board of Education on Facebook

We'll provide updates on the budget process, legislation that will impact GCS classrooms, and news about the Board.
Contact Us
Guilford County Board of Education

712 N. Eugene St.

Greensboro, NC 27401

Phone: 336-370-8100