Return to Headlines
Eileen Lloyd Named GCS Volunteer of the Month for April 2019
Eileen Lloyd Named GCS Volunteer of the Month
Western High School PTSO Vice President enhances service-learning program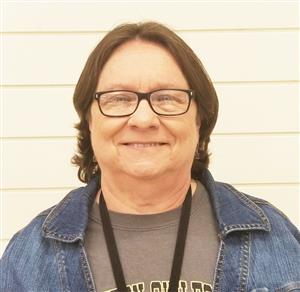 Greensboro, N.C. – Eileen Lloyd, Parent Teacher Student Organization (PTSO) vice president at Western High School, has a passion for helping those in need and building a sense of community and togetherness. With this passion and the fulfillment she receives from helping others, Lloyd began volunteering at Western High School.
Since 2011, Eileen has volunteered at the school in many capacities. As a mentor for the school's service-learning program, Eileen works with students to select meaningful projects enhancing the community such as sewing handmade hoodie scarfs and bedrolls for the homeless and developing the Dress-A-Village initiative supporting women in West Africa.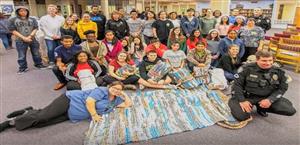 Eileen played a critical role in the school receiving a $250 School Garden Grant from the N.C. Cooperative Extension Service. The grant helped purchase materials to build garden beds where students plant vegetables and donate them to the Out of the Garden Project. Last year, Eileen helped coordinate an annual Alumni Talk Session featuring recent Western graduates who shared real life lessons with seniors and underclassmen.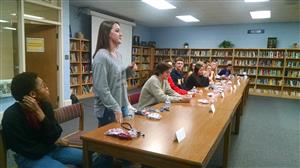 In her role as the school's PTSO vice president, Eileen cultivates relationships with parents, works to increase membership and creates unique ways for parent involvement. Eileen also assists teachers and administration, volunteers in the front office and serves breakfast and snacks to the staff. She even made it a personal mission this year to get a better sound system used during school meetings.
"She does so much at Western High," says Linda Veneris, director of theatre arts at the school who nominated Lloyd. "She is the perfect example of a dedicated volunteer," adds Principal Pete Kashabara. Eileen says she will continue to volunteer at Western High even after her daughter graduates this year because she enjoys working with the students.
As the GCS Volunteer of the Month, Eileen Lloyd was presented with a $50 VISA gift card, courtesy of Rice Toyota who has sponsored the program since 2013. During the month of April, her photo will hang at the district's central offices, Western High School and Rice Toyota Collision Center on Battleground Ave.