Return to Headlines
Jesse Walker Named GCS Volunteer of the Month for February 2019
Jesse Walker Named GCS Volunteer of the Month for February 2019
Male students at Eastern High prepare for college, career and life with the help of retiree
­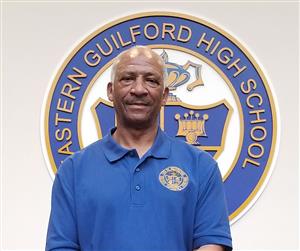 Greensboro, N.C. – Having served 38 years with the Greensboro Fire Department, Jesse Walker knows too well the value of community service and leadership. His love for assisting those in need still ignites kindness at Eastern High more than 30 years after his daughter and son graduated from the school. Walker was named the GCS Volunteer of the Month for February.
Walker believes it takes hope and perseverance to succeed in life. Inspired by his own experiences and a brief conversation with the assistant principal and other staff, he helped start the Men of Distinction (MOD) Program designed to shape character, interpersonal skills and leadership in male students. As a mentor, Walker shares testimonies and encourages the district's character development traits: responsibility, respect, kindness, courage, integrity, self-discipline and perseverance.
In demonstrating his commitment to the MOD Program, Walker coordinates and chaperones mentoring sessions at McLeansville Elementary as well as attends community and school events sponsored by MOD. He encourages students in the MOD Program to stay connected with counselors as they prepare for their future and exemplify good citizenship.
Since 2017, Walker has generously funded field trips, meals, neckties,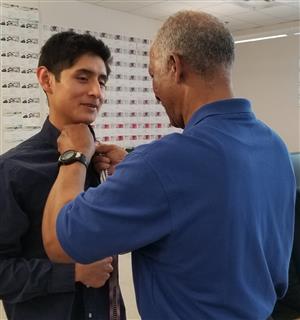 dress shirts and imprinted shirts for the students in the MOD Program. Recently, Walker assisted with an all-male student assembly at the school in conjunction with the Mu Psi Chapter of Omega Psi Phi Fraternity at North Carolina A&T State University. The assembly encouraged setting goals, self-worth and manhood.
"Mr. Walker is always willing to go the extra mile to help increase student growth, student efficacy and academic achievement," says Greg Stewart, assistant principal who nominated Walker. "We are so thankful to have Mr. Walker as a mentor for our youth and making a difference," adds Marvin Morgan, drafting teacher who also submitted a nomination.
As the GCS Volunteer of the Month, Jesse Walker was presented with a $50 VISA gift card, courtesy of Rice Toyota who has sponsored the program since 2013. During the month of February, his photo will hang at the district's central offices, Eastern High School and Rice Toyota Collision Center on Battleground Ave.