Return to Headlines
Bonnie Sindab: GCS Volunteer of the Month for December 2018
Bonnie Sindab Named GCS Volunteer of the Month
Cone Mills retiree encourages learning in the classroom the Erwin Eagle way
­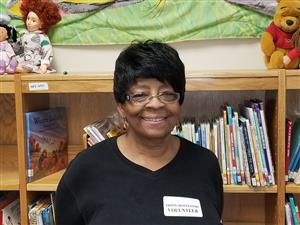 Greensboro, N.C. – After 44 years as an employee at Cone Mills, Bonnie Sindab decided to get involved with Guilford County Schools as a volunteer. As a classroom volunteer at Erwin Montessori, Bonnie demonstrates a genuine care for students and inspires them to work hard. Bonnie Sindab was named the GCS Volunteer of the Month for December.
Bonnie has become more like an employee than a volunteer. Last year when her granddaughter began pre-kindergarten in Ms. Noble's classroom, Bonnie found a new love for helping students by donating her time and talent three days a week. Even though her granddaughter is now in first grade, Bonnie still assists Ms. Noble as a classroom tutor, cafeteria monitor, restroom assistant, recess monitor, reading buddy, lunch buddy, friend and a positive role model.
Arriving at 7:30 a.m. and leaving at 3:00 p.m., Bonnie accompanies students to the restroom,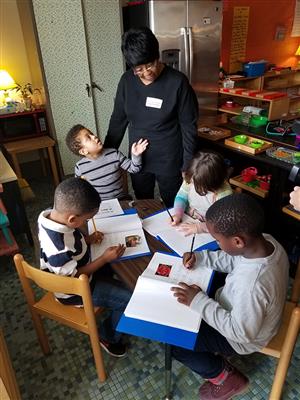 helps them with meals in the cafeteria, guides them to specials and assists during recess. In the classroom, Bonnie works with an assigned group of students with reading every day. Earlier this year, Ms. Noble had a particularly challenging student. With Bonnie's calm personality, warm smiles and maternal instincts, the student began making progress towards excellence. Bonnie is not just a grandmother of one student at Erwin Montessori, but the grandmother of all students at the school. Students and staff rely on her consistency, warmth and presence.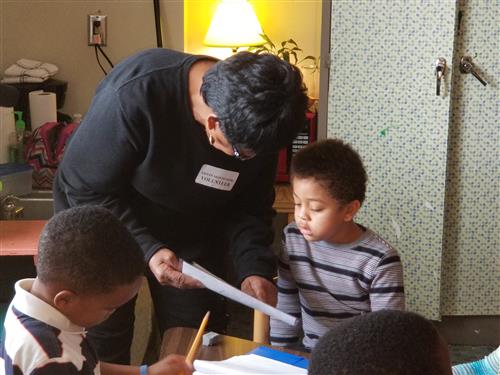 "This is so refreshing to see a volunteer with such a kind spirit and willingness to show up on a consistent basis," says Dr. Deborah Parker, principal at the school and one of five staff members to nominate Bonnie. "Students run to hug her when she arrives and she always reminds them to be Erwin Eagles: E - encourage others; A - act responsibly; G - give respect; L - listen and learn; E - embrace differences and S - show self-respect," says Norma Noble, pre-kindergarten teacher who also nominated her. "Ms. Bonnie has helped a special student spell her name and learn numbers while assisting other students improve in many areas."
As the GCS Volunteer of the Month, Bonnie Sindab was presented with a $50 VISA gift card, courtesy of Rice Toyota who has sponsored the program since 2013. During the month of December, her photo will hang at the district's central offices, Erwin Montessori and Rice Toyota Collision Center on Battleground Ave.