Return to Headlines
Men on the Move: GCS Volunteers of the Month for November 2018
Irving Park Elementary students receive inspiration from NC A&T State University male mentors
­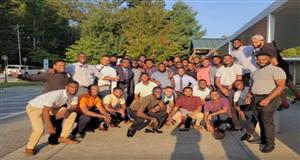 Greensboro, N.C. – North Carolina A&T State University's Men on the Move, who emphasize staying in motion, give Irving Park Elementary students the green light to reach their full potential academically and socially. As male mentors, Men on the Move encourage male students at the school to stay on the move learning in the classroom while motivating them to be their best. Men on the Move were named the GCS Volunteers of the Month for November.
Over the past five years, 22 members of Men on the Move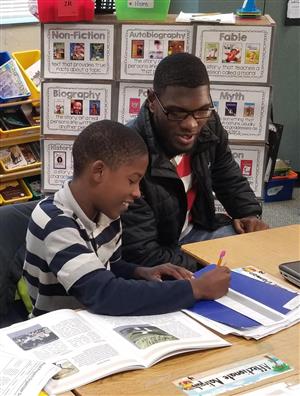 have worked with their assigned students nearly every day assisting with classroom lessons, speaking with them about goals in life, and challenging them to keep learning in motion as a way to excel in school. As role models, Men on the Move promote character and reinforce good behavior. On the first day of school, the mentors welcome students and encourage them to have a great year. They write letters inspiring students to do their best on End of Grade (EOG) tests and serve as test proctors. Men on the Move also assist with activities during Field Day. Irving Park Elementary students enjoy having Men on the Move as lunch buddies for laughs and conversation. Every year, Men on the Move coordinate a field trip that allows fifth-grade males to experience college life with a tour of NC A&T State University's campus. Recently, Men on the Move created Ladies of Excellence, a female mentor group, who will begin volunteering at Irving Park Elementary in a few weeks.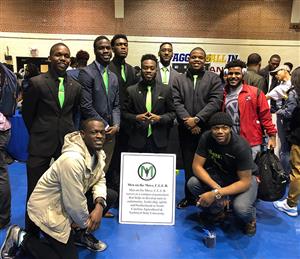 "Men on the Move have truly made a positive impact in the lives of many students at Irving Park Elementary," says Younesa Ortado, assistant principal at the school who nominated the group. "Our fifth-grade students said the visit to NC A&T State University was the best field trip they ever had."
As the GCS Volunteers of the Month, Mr. Garson Rice,
president of Rice Toyota, presented members of Men on the Move with a $50 VISA gift card, courtesy of Rice Toyota who has sponsored the program since 2013. During the month of November, their photo will hang at the district's central offices, Irving Park Elementary and Rice Toyota Collision Center on Battleground Ave.