Return to Headlines
Beth Talent: GCS Volunteer of the Month for October 2018
Beth Talent Named GCS Volunteer of the Month
Beautification Committee Chair creates a welcoming environment with her creative talent
­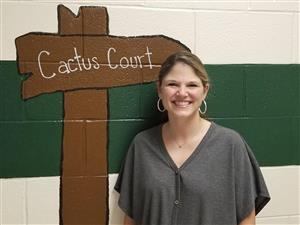 Greensboro, N.C. – Since her son began attending Southwest Elementary four years ago, Beth Talent has been actively involved as a PTA volunteer. She engages with parents and members of the community to support school initiatives and programs. Talent was named the GCS Volunteer of the Month for October.
With two children attending the school, getting to know teachers and staff is a priority. So she joined the school's PTA. When Talent learned the school needed a beautification committee chair,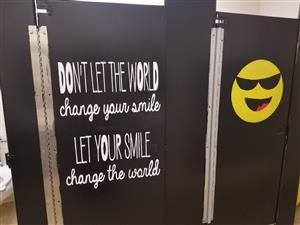 she learned more about the role and how she could help. She soon took on the new responsibility and began thinking of ways to encourage character and motivate students. During the month of July, Talent volunteered three days a week turning the school into a brighter place. She coordinated 25 other volunteers who helped paint inspirational messages and artwork in student restrooms. Painted cactuses adorn each hallway with the hall's name to help students, parents and visitors find their way around the school.
As an enhancement to the school's entrance, Talent and her team painted a large emblem in the pavement. In keeping with the Southwest Elementary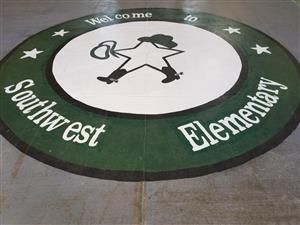 cowboy theme, the foyer gleams a map of North Carolina with the school's name.
Upcoming projects include a painted tree in the foyer of student handprints in a rainbow of colors demonstrating growth and diversity, character traits painted on pillars in the hallway with a crayon background and a large rock donated by Vulcan Materials placed in the front of school where students can paint encouraging art. Talent hopes to complete a new beautification project each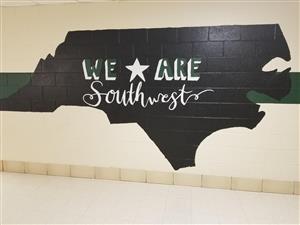 month during the 2018-19 school year.
"I could tell from the moment I met Mrs. Talent that she truly cares about the SW community. Her dedication, creativity and passion shows through in every activity she involves herself in at the school," says Michelle Thigpen, principal at the school who nominated Talent. "The staff appreciates the new additions to our school and I cannot wait for students to see them too," adds Emily Sides, second-grade teacher who also nominated Talent.
As the GCS Volunteer of the Month, Mr. Garson Rice, president of Rice Toyota, presented Beth Talent with a $50 VISA gift card. Rice Toyota has sponsored the program since 2013. During the month of October, her photo will hang at the district's central offices, Southwest Elementary and Rice Toyota Collision Center on Battleground Ave.