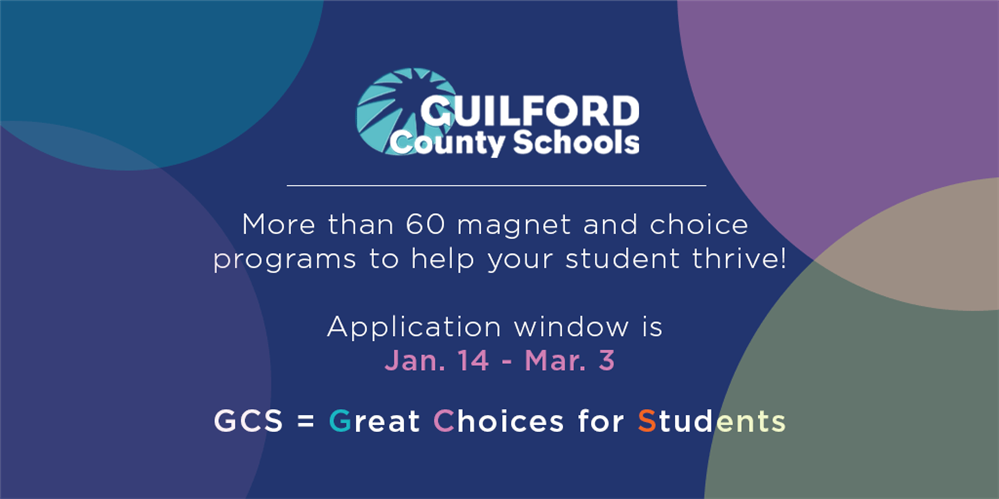 General Information for Applying to Magnet/Choice Programs
Where do I go to get information about my magnet/choice options?

To learn more about Magnet/Choice options please visit the individual schools website for more information. Click here to access a list of magnet/choice options.

How do I access the online magnet/choice application?

Step 1 - Go to Schoolmint

Click here for an instructional video on creating a Schoolmint account

Step 2 - Complete your application for your Magnet/Choice preferences

Step 3 - Communications will be sent from Schoolmint regarding your application status at the end of the magnet/choice window

The link to the online magnet/choice application will be available and posted on the GCS website main page, on the Magnet/Schools page and shared through multiple social media outlets.

Click here to access the online magnet/choice application.

What information will I need to have available as I am completing the application?

Mobile/cell phone number and/or email address

Home address

GCS Student ID number if the student is currently enrolled in GCS (same as student's lunch number)

PowerSchool Student ID number, if the student is currently enrolled in a charter school

Current school name, if applicable

School assignment by attendance zone for next school year (Use the School Assignment Locator, if you are unsure.)

How many schools can I apply to?

| | |
| --- | --- |
| Level | Number of schools to apply to |
| Elementary | 3 in rank order |
| Middle | 3 in rank order (*4 if Brown Summit is an option) |
| High | 5 in rank order |

*If applying to Brown Summit Middle Center for Advanced Academics, GCS staff will review the following documents:

Last year's final report card (core courses only)

This year's most recent report card (core courses only)

An electronic copy of the most recent math and reading EOG scores

When will I know if my child has been offered a magnet/choice seat?

Families will receive notification of magnet seat offers in March 2021. Notifications will be communicated by email or text according to the notification method selected when families set up their account. Families must accept or decline offers by April 2021. Wait Pool offers may be made based on space availability.

Once a family has accepted an offer from a magnet school, they will receive a link to request transportation and information from the school to complete the enrollment and registration process.

Who do I contact if I need help?

For technical assistance, contact support@schoolmint.com.

For general questions about the magnet/choice programs or the magnet/choice application process, contact the Magnet/Choice Office (336-370-3293).

For school assignment questions, contact the Student Assignment Office (336-370-8303).

For questions about specific school programs, contact the school directly.