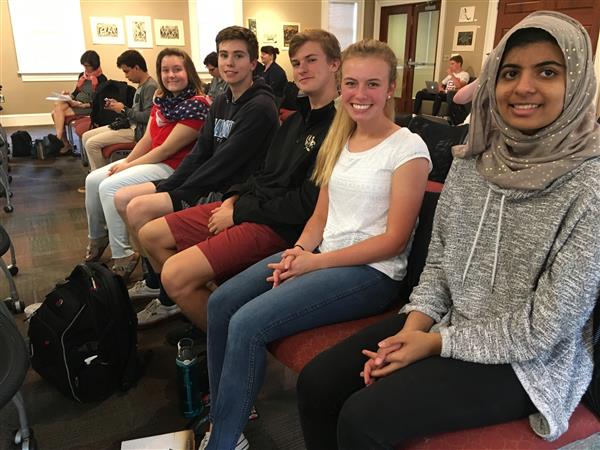 What Makes Western Advanced Placement Capstone Academy Unique?

College Board Advanced Placement Capstone Program:

We were the only AP Capstone program in North Carolina and only 1 of 114 schools nationally to be accepted the first year in 2014.

Our first year we graduated 67% with Capstone Diplomas or Certificates

Our second year we graduated 85% with Capstone Diplomas or Certificates

Our 3rd year we graduated 86% with Capstone Diplomas or Certificates

For more information, visit or school's website or collegeboard.org/apcapstone

Service Learning:

Goal: Service Learning Diploma (250 hours) Expectation: Service Learning Award (100 hours)

Tutoring at local feeder schools:

Guilford Elementary Claxton Elementary Jefferson Elementary Western Guilford Middle

Sponsored Service Learning Projects:

Relay for Life, Camp Weaver, Out of the Garden, Back Pack Beginnings

College Visits:

We visits colleges each of your underclassmen years allowing students to see a variety of our state institutions

Rigorous College Program within a Traditional High School:

Our program allows students access to rigorous college-level course load while enjoying all the aspects if a traditional high school such as Athletics, Cultural Arts, Career and Technical courses, and clubs.

Flexible AP Course Selection:

To earn the diploma, Capstone Students can pass any four AP exams they chose in addition to the AP Seminar and AP Research exams. We offer 20 AP courses and hope to offer more based on student interest.

To earn the certificate, Capstone Students need to pass AP Seminar and AP Research Exams.
AP Capstone Announcements
For more information contact:

336-316-5800

Ms. Taylor Peele
AP Capstone Program Coordinator
peelet@gcsnc.com

Mrs. Sadie McCleary
Curriculum Facilitator
mccleas@gcsnc.com