Return to Headlines
Senior Spotlight: Maddie Thompson, STEM Early College at N.C. A&T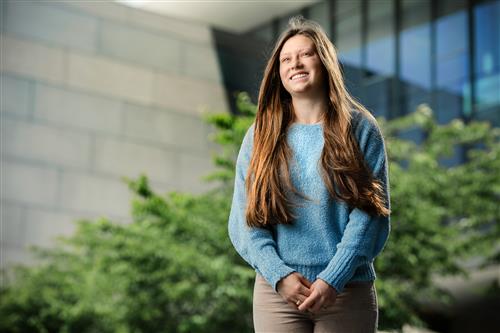 Every week, Maddie Thompson thinks about the girl she was.
She'll be taking a pitching lesson across the street from her old school, and she'll remember her white-knuckle emotions from long ago.
She didn't feel she fit in at Monticello-Brown Summit Elementary. She got teased by other students because she worked with a speech therapist and participated in the school's advanced learning and gifted program.
Those moments remain crystal-clear in Maddie's memory. Yet, she knows those moments made her stronger. And today, as she works to perfect sailing her fast-pitch softball past a batter's knees, she thinks about what she would say to her younger self.
"Little Maddie," she'd say, "We made it."
And how.
Maddie Keeps A Promise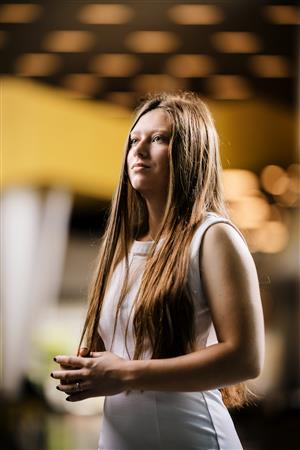 Maddie graduates today, May 25, from the STEM Early College at N.C. A&T, and she'll begin her college career at N.C. State in August. She plans to major in computer science as a member of the university's Honors Program.
There was a time when Maddie thought college was simply a distant dream.
When she was 16, she told her mom that she needed to apply for as many jobs as possible because she felt she needed to gain the skills to support herself if her plans for college fell through because of cost.
"You're going to college, Madison," her mom told her. "You made a 1480 on your SAT."
"But Mom," Maddie pleads. "Little Maddie thinks she's not supposed to go to college."
Little Maddie will, with no worries about cost.
Maddie is a Goodnight Scholar at N.C. State, one of 50 first-year students. Her scholarship covers all her college expenses, hones her leadership skills, connects her with mentors and gets her involved in service-learning projects that build community.
She's also a Greenhouse Scholar, one of 33 students chosen nationwide. That scholarship will cover any additional expenses and give her a chance to network, find mentors, provide internships, and create her own nonprofit.
Both scholarships are designated for academically talented students from low- to middle-income families living in communities seen as under-resourced. Both scholarships will later help pay for graduate school to support students both scholarships see as "future changemakers."
That is Maddie.
She's a softball coach, a barista, a softball player, a tutor, and the co-founder of a community project that collects various items and distributes them in boxes and bags to people without a home in downtown Greensboro.
Today, as she gets ready to graduate from the STEM Early College, Maddie knows she can become what she dreamed about: a medical scientist who will use her degree to change lives.
She'll become the first member of her family to graduate from college. Her goal of becoming a medical scientist, she knows, is within reach.
"Somewhere deep inside, I knew that if I worked hard enough, I had the opportunity to open doors for myself that could lead to the future my younger self envisioned," Maddie wrote in her Goodnight Scholars' application.
"Now that I am so close to her goals, I realize that there is something powerful about keeping a promise to yourself, something profound about becoming the person you once needed."
Profound, indeed.
For Maddie, her transformation started at Brown Summit Middle School.
'I Can Be Myself'
It was Maddie's seventh-grade year when Kesha released "Woman," her funk-pop song about female empowerment. Kesha's muscular lyrics got Maddie thinking about who she was and who she needed to be.
She knew she needed to change.
"Be your best self, and don't be so freaking angry," she told herself. "Don't take it out on others. Don't be that monster. You can be your best self by the choices you make every single day."
Around that time came the idea to create the Box From Home Project. She and her friend, Lily Richey, created it by enlisting their classmates to bring in such items as coats, soap, shampoo, toothbrushes, and toothpaste so they could give it to people in need.
Maddie and Lily ran it for two years. When Lily backed away, Maddie took over. She still does it today, and she does it at where it originated –– Brown Summit Middle School.
She enlists students to collect toiletries, and she and other students help distribute the gift bags, grocery bags and gift boxes every Christmas. She sees the initiative as a way to erase stereotypes, dismantle fear and strengthen the empathy muscles of young people like herself.
She feels all that happening when she takes her initiative to the streets. That's when it becomes real.
Like the man she met at Center City Park. Maddie gave him a blue North Face jacket.
"You got me a coat!" he yelled. "You got me a coat!"
Or the man in the wheelchair she met on Gate City Boulevard.
"Wait, wait!" he said. "Do you have one more? Do you have one more?"
"Take two," Maddie responded.
The Box From Home Project helped Maddie become a feature of WGHP's series, "What's Right with Our Schools." Moreover, the initiative helped build Maddie's confidence in her leadership skills and herself.
That happened, she says, because of Brown Summit Middle School.
"The teachers and staff are so supportive there," she says. "They helped me with my work, and they showed me that it's OK to show a bit of myself. Sure, it was scary at first because I got hurt when I opened up in the past.
"But by the end of my seventh-grade year, I met a whole new group of friends. I was doing the Box From Home Project and I realized, 'I can't mess up doing good. I can express myself. I can be myself.'"
Her mom understands the why behind her daughter's transformation.
"Oh my goodness, that was her people," Kristin Wyrick, Maddie's mom, says of Brown Summit Middle School. "She was getting challenged, and all the kids there were interested in school, and she was in her environment with her people. That made her excel."
But where to go next? Her teachers Katy Crisco, Linsey McCarthy and Kirby Young had an idea.
Maddie Thinks Big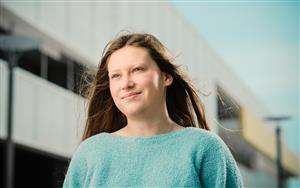 Crisco, McCarthy and Young encouraged Maddie to apply to the STEM Early College at NC A&T. They told her she had the grades and the intellectual horsepower to be the medical scientist she dreamed of being.
Maddie applied. She got in. And by the third day at the STEM Early College, she knew she was in the right place. She was participating in hands-on learning and making relationships with college professors.
She conducted research with them and helped write an academic paper with them. Meanwhile, they spurred her on to think big.
Maddie wrote about her growth at the STEM Early College in her Goodnight Scholars application.
"One thing that I have learned while attending the STEM Early College at NC A&T is that critical thinking is not a skill, but rather a mindset of acceptance," she wrote. "When we accept that our opinions are useful, but not absolute, we are better able to understand what others bring to the table.
"In this, we are also better able to adopt a growth mindset and evolve into the best versions of ourselves."
Kristin Wyrick understands. She evolved, too.
'It's OK To Be Happy'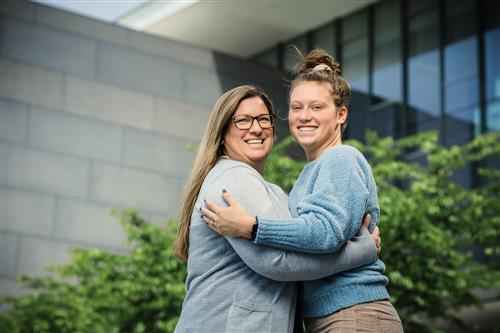 Wyrick and her husband separated when Maddie was 1. They divorced when Maddie was 3. For years, Maddie bounced between her mom's house and her dad's house until she was 11. Since then, Maddie has had no contact with her dad.
When Maddie was born, Wyrick was a stay-at-home mom. When her marriage ended, she began working three jobs to pay the bills and provide a life where Maddie could play soccer, basketball, tennis and softball. Maddie has played softball since she was 4.
Wyrick worked as a dental assistant and cleaned the offices at night. On the weekends, she worked at her grandparents' flea market off N.C. 29 to make extra money. She saved money wherever she could. Meanwhile, she put on a strong face in front of her daughter.
"Keep it together," Wyrick told herself. "You got a kid to take care of."
Maddie only saw her mom break down once. She was seventh grader, and they were in a dressing room at Kohl's. As Maddie was trying on clothes, her mom put her head in her hands and started crying.
"I'll go put this back," Maddie told her.
Like her daughter, Kristin Wyrick has worked to make her life better. At 40, she went back to school. In 2019, she graduated from Forsyth Technical Community College with a degree in supply chain and distribution management. In June, she got a job.
She began working as a freight broker with a transportation service in Kernersville. In December, she married Kevin Wyrick, a man she had known for 15 years. She and Kevin got married in Las Vegas. Maddie was by her side.
Wyrick says she doesn't think often about the arduous path she and Maddie have taken. But then, she'll be in her sunroom and see the sign, "Today Is A Good Day For A Good Day." She'll stop and think about the present, the right now of her life.
That message always reminds Wyrick to be grateful. For herself. And her daughter.