Return to Headlines
Senior Spotlight: Sean Hsieh-Sills of The Middle College at GTCC-Jamestown
Sean Hsieh-Sills has a busy mind.
He has created two businesses, designed a battling robot and he's working to patent a suspension system he built for a longboard to ease the wobble when a skater races across uneven surfaces.
And Sean does love to race. With an odometer and speedometer on his smartphone, he often challenges himself to go as fast as he can on his longboard. He rides around his neighborhood or at Hagan-Stone Park, and he's clocked himself going 27 mph down a hill.
But it's more than just speed he's looking for.
"I find it very soothing and calming," he says. "It's just you and the wind. You feel the board underneath you, and you're in the zone, in the moment, and you don't focus on anything except trying not to crash."
Sean will graduate Thursday, May 25, from The Middle College at GTCC-Jamestown. In August, he will start his college career at N.C. State, majoring in engineering and continuing his entrepreneurial journey.
Sean has big dreams for his future, and he saw glimpses of it last summer in the most peculiar of places.
In an office. In Washington, D.C.
Sean's Epiphany in DC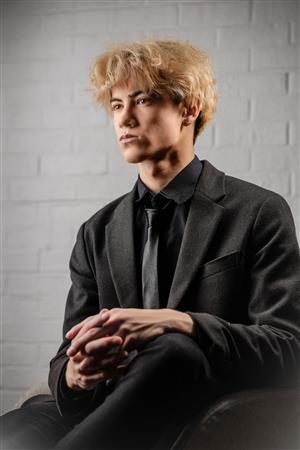 With his legs tapping and his palms sweaty, Sean looked over his notes and worked to get his words together.
He did. He struggled at first. During the first meeting, he couldn't find the right words. But by the seventh meeting that day, Sean got it. He felt comfortable, confident, and his nervous leg taps and the sweaty palms became a memory.
In an office of a U.S. senator or while talking to a member of his staff, Sean sat on an office couch and was asked on how to get more students interested in science and technology, engineering and math.
Right then, it hit him.
"It was a moment of realization that this is what I want to pursue," Sean says. "This is what I want my future to be – talking to very important people in a formal setting."
Sean realized he wanted to be an advocate. But what is that future?
It has everything to do with STEM.
Sean's "So Adventurous" Path
Sean went to DC as one of hundreds of students participating in the National Advocacy Conference. He joined a dozen students from North and South Carolina who visited congressional offices to advocate for increased funding in STEM programs.
Sean acted as the facilitator. He wrote his notes on a white legal pad and introduced each of the students. Sean and the others talked about the importance of getting more students from underrepresented and underserved populations involved in STEM.
Sean can speak from experience. He represents 5 percent of the student population in Guilford County Schools from two or more races.
His mother is Taiwanese; his dad is American. His mom runs her own martial arts design business; his dad works as a senior vice president for The Research Policy and Impact Center in Durham; and his stepmother is a researcher.
His mom got him interested in running his own businesses. He's done well.
He used $200 earned from odd jobs to start an online business selling sneakers and apparel from Nike, Jordan, Yeezy, Burberry and Louis Vuitton. He started his business in August. He has sold more than 100 pairs of shoes and netted overall $10,000.
He used that money to buy a commercial pressure washer. He set up a Google number and skated around his neighborhood on his longboard and dropped off at various houses fliers about his pressure washing business.
So far, he has had five clients. That includes his dad.
His entrepreneurial mindset has impressed Loretta Rowland Kitley, the principal at The Middle College at GTCC-Jamestown. But that's not all.
She says Sean has followed the most rigorous path of any student she knows in her 25 years of teaching.
"He regularly demonstrates a growth mindset –– sincerely taking feedback as a catalyst for improvement and setbacks as a springboard for productive change," she wrote in her nomination email for Sean's application for Senior Spotlight.
She calls Sean's academic path "so adventurous." To understand that, consider what he has done.
He built a robot. And then some.
The Real-Life Skills of Robots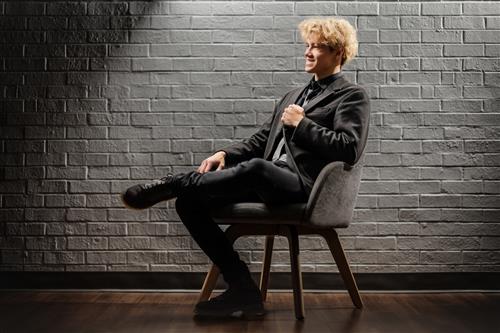 Sean's principal was impressed by how he navigated the registration and approval process at both GTCC and A&T. Sean needed to take physics and a physics lab to complete his associate degree at GTCC as well as take more classes each summer to complete prerequisites.
So, he did it. By himself.
Meanwhile, Sean's dad encouraged him to get out and meet people instead of staying home and doing homework. He found a flier for a robotics team, and he figured his family's future engineer would have fun creating something out of nothing.
He was right.
Sean visited a local robotics team's demonstration, and he found his team with a great name: The Flying Platypi.
Last year, Sean became a member of their purple-shirt brigade. The team's mission: inspire teenagers like Sean to pursue careers in science and technology by having them build robots for big competitions.
The Flying Platypi was a glove fit for Sean's creative mind. He later became the lead mechanic. He and three other members built a robot that stood on a square base and looked like a steel-bar triangle three feet high.
In building his robot, Sean learned how to use a band saw and other machinery. He also learned how to build gear boxes and became more adept at using CAD, or computer-aided design.
But what really came in handy was honing his writing and presentation skills.
He had to present their robot-building plan to judges. During a recent competition, The Flying Platypi won the entrepreneurial award for showing how the team raised the funds they needed to create their robot.
One of Sean's goals was to find something that stoked his passion. He found his passion with The Flying Platypi.
"It was because it was a place where you could bring the ideas you have in your mind and fully build something practical that works in real life," he says. "You're problem-solving, you're creating a strategy. It's like you're playing a game. But it's real life."
Sean's Next Step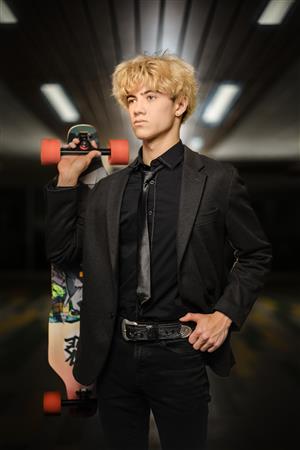 Sean will earn both an associate degree in engineering from GTCC as well as a high school diploma from The Middle College. When he starts at N.C. State in two months, he will already have 75 college credits.
That accomplishment makes him proud.
"You can always be a smart student and get great grades, but I challenged myself by taking all these college classes," he says. "It put me in a different environment because I wanted to be with people and peers who have similar ideas, and I got to be with engineering students."
He discovered that at A&T and GTCC. That atmosphere was exactly what he was looking for after his freshmen year at Southeast Guilford. He wanted to take more college courses that would help him obtain an engineering degree and become an entrepreneur.
With his engineering degree in hand, Sean wants to start a business that tackles some of the world's thorniest issues such as global pollution and climate change.
That's how Sean thinks. He's always looking for new challenges.
"I feel like it's something necessary in everyone's life –– to put yourself out there," he says. "It's a way for me to grow as a person and my own skills. And the more challenges you face, the easier it becomes."