Return to Headlines
Senior Spotlight: Ben Johnson, The Middle College at UNCG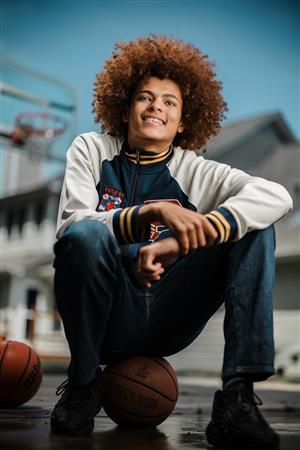 Ben Johnson has a basketball court in his backyard.
It's square, a classic half court, 27 feet across and 27 feet long, a place where NBA dreams are born. That concrete slab has been Ben's outdoor clubhouse for years. After school and on weekends, Ben and his friends bonded during games that lasted for hours.
But Ben's court is more than just a memory maker. It reminds him of the power of friendship, the importance of goal-setting and the communal spirit of collaboration.
Every week for nearly two years, Ben did chores around local neighborhoods. He raked leaves, mowed lawns, and bought supplies for gift baskets his grandmother sold at the local post office around Christmas and Valentine's Day.
Ben raised $6,000 and used it to build a basketball court at the place he and his friends always gathered.
Ben's house.
On Wednesday, May 24, Ben will graduate from The Middle College at UNCG. Next fall, he'll enter UNC-Chapel Hill as one of 10 Wood Family Scholars. With the scholarship as well as other grants he has received, Ben will cover nearly all his college expenses.
He earned the Wood Family Scholarship because of his grades and his service work. He also earned it because of what he wrote in his short essays. One of those essays dealt with building a basketball court when he was a seventh grader at Jamestown Middle.
"Reaching my goal was fantastic, but the experience became much more valuable," he wrote. "Learning the value of a dollar has stayed with me since."
Ben has learned other values, too. The shouts he hears in his house every day remind him of that.
Ben's Head Start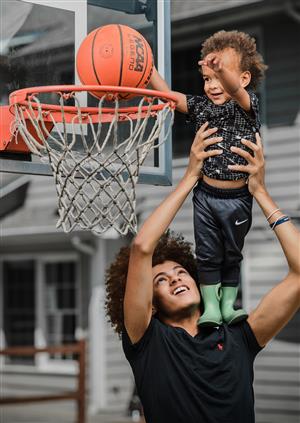 Ben was 14, an only child, when his sister was born. Her name is Jasmine, JJ for short. She's 3. Ben's brother, Gabriel, was born two years later. He's known as Gabey. He's 1.
Gabey and JJ don't know their brother as Ben. They know him as "Baba." It's easier to say than "Ben." When they need him, Gabey and JJ shout, "Baba! Baba! Come here!"
Ben became their built-in babysitter and constant playmate. He takes them to Ben & Jerry's for salted caramel ice cream or holds them by the chest and legs and flies them around the room like they're small airplanes.
When JJ and Gabey were born, Ben found that family became much more important. So did responsibility. The lessons Ben learned from raising money to build a basketball court became even more relevant. Ben knew it. His parents knew it, too.
"Son, we will struggle for a little while, but we will all meet our goals in the end," Ben's dad told him.
So, at age 15, Ben began looking for part-time jobs. He didn't want to ask his parents for money when family expenses got tight.
He started as a golf court attendant at Grandover Resort. Eight months later, he worked as a cashier at Lowe's Foods. He's now a retail assistant at Old Navy.
Ben used the money he earned to buy everything from clothing and shoes to deodorant and shampoo. As he became more responsible, Ben became more focused on his future and his education.
He liked Ragsdale High, his home school. But he wanted to take college courses, enroll in smaller classes, and have frequent face-to-face interaction with his teachers.
Plus, Ben had another dream, one beyond his basketball court. He wanted to graduate from college early and get a head start both professionally and personally. He really started thinking about that during his playing days on the backyard basketball court.
At Jamestown Middle, he wrote about it in a few verses in his poem, "All for the Sport."
Basketball-Basketball, many boys wishes, hopes, and dreams.
They all desire to grow and do what they love while earning that cream.
Basketball-basketball, I have the same dreams as many,
but academics is where I will be earning my cream while still playing my dream.
Ben chose to enroll at The Middle College at UNCG. There, he got his head start.
'Look Beyond the Now'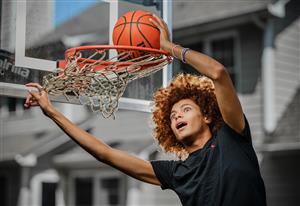 Like many freshmen in Guilford County high schools, Ben discovered a hard life lesson that spring.
COVID closed Guilford County Schools' 126 schools, moved learning online and sent every student home.
"It was definitely scary at first, and I had pretty bad anxiety over it," Ben says today. "But I had to accept it, and I knew it was something I had to go through. It locked me into more of what I needed to do. I couldn't sit around and be sad about it."
He saw teachers like April Dunovant and Marlon Relles as mentors who helped him learn and cope. Dunovant taught history; Relles taught math. Both teachers helped Ben become more confident in history, math, and himself.
Ben's life expanded beyond the classroom. He earned more than 200 service-learning hours by promoting autism awareness through the Luv Michael Foundation and becoming more socially conscious through his work with North Carolina Community and Justice organization.
He also got involved with the American Indian Education (AIE) program with Guilford County Schools. Ben wanted to understand his own heritage.
Ben's dad is Jamaican; Ben's mom is a member of the Lumbee Tribe of North Carolina. Ben saw the program as another opportunity to grow, and the program's coordinator, Stephen Bell, helped make that happen.
He took Ben and the other program's participants to visit colleges, and he offered them advice every step of the way.
"Keep your minds open and look beyond the now," Bell told them. "Imagine what will be."
Paging Dr. Johnson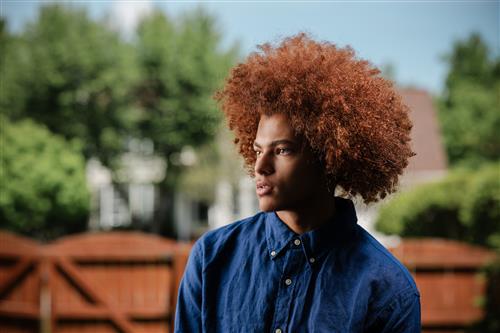 So, like he did with building a basketball court, Ben got busy with his college applications.
This spring, Ben has been accepted to 18 colleges and universities and has been offered nearly $1.3 million in grants and scholarships. He chose UNC-Chapel Hill because he's always wanted to go there since his freshman year at The Middle College at UNCG.
He'll major in public health and room with Kristian Banovic. They met at Millis Road Elementary in fifth grade when Ben ran Kristian's campaign for fifth-grade president. Kristian lost –– and gained a great friend.
They both will pursue careers in medicine. Kristian wants to be a neurosurgeon, and Ben wants to be an anesthesiologist.
Ben will major in public health. As a Wood Family Scholar, Ben will have a chance to network with other public health professionals and get advice on how to achieve his professional dream.
Ask Ben about his professional dream, and he mentions "Blackish," the TV show.
He first began watching "Blackish" with his dad. He now watches 'Blackish" on his iPhone. He catches every episode he can. He likes the show. He also likes the mom on the show. She inspires him because of what she does. On the show, she's an anesthesiologist.
"She was called Doctor wherever she went, and it was like honorific for her," Ben says, "and I want to be exactly like that. We also share the same last name. On the show, she's Dr. Johnson. I always loved the sound of that, and helping people is a passion of mine. It should be a passion for everybody."
That's a passion he picked up from his parents, Sean Johnson and Kellie Kurtz. Take his dad, a teacher's assistant in Guilford County Schools. Ben will be sick, and his dad will bring him food, bring him medicine, and lay beside him to help him feel not so horrible.
"I want people to have the same comfort from me that I get from my dad," Ben says. "I want to feel that in my career field. I want people to know when they come to get surgery, I want them to know they are in good hands."