Return to Headlines
Deep roots: Principal's ties to one Guilford County School date back about 100 years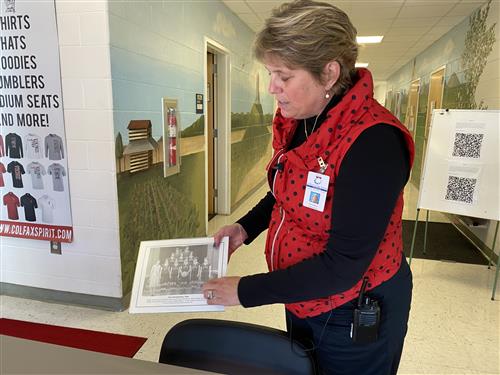 You can't tell the story of Colfax Elementary School without taking a dip in Principal Julie Kimsey's gene pool.
It started in the 1920s, when a little white schoolhouse served all children in the rural western Guilford County community. Kimsey's grandmother began her studies there, but finished in a brand new 12-room red brick building.
Fast forward three decades. That cute couple walking hand in hand down those very halls would grow up, get married … and become Kimsey's mom and dad.
And what about Kimsey, who became the school's assistant principal in 2015 and principal in 2018? Well, of course she and her sister attended Colfax, just like aunts, uncles and countless cousins on both sides of the family.
"This was like coming back home for me," said Kimsey, 51.
As teachers across the country celebrate American Educators Week, which continues through Friday, we thought we'd tell you about an educator whose devotion to her school and her hometown knows no bounds. In fact, her dream of becoming a teacher was born in the halls of Colfax Elementary.
Kimsey attended Colfax from kindergarten through fourth grade. But in fifth grade, Southwest Elementary School opened to ease student crowding at Colfax, and Kimsey was one of the kids sent to the new school. Her mother, however, continued to work in Colfax Elementary's main office — and Kimsey accompanied her mom to her former school whenever she got the chance.
Her favorite task was only the most teacher-y thing ever: making bulletin boards.
"I just always knew I was going to be a teacher when I was growing up," she said. "It's the only thing I ever wanted to be. I hung out with teachers my whole young life."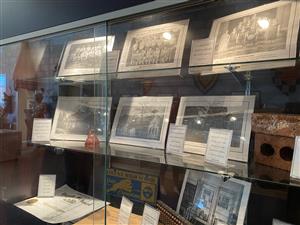 When Kimsey returned to Colfax Elementary as assistant principal, the principal urged her to put together a "history cabinet" containing various pieces of the school's past, which dates to 1875. Suffice to say that Kimsey was uniquely qualified to hunt down those treasures and relics. She asked the community to donate items, but she also had dozens of relatives on whom she could rely.
"I feel a deep connection to (the cabinet)," she said. "I wanted it to be the history of education in the community — the educational buildings and how Colfax Elementary came to be."
The glass case sits in the Media Center and is filled with items from Kimsey's kin.
There's her grandmother's diploma and her father's report cards. Her dad also contributed his agricultural diary, in which he documented details of the cow the school required him to raise.
Her parents also hooked her up with some class photos, including one from a visit to the U.S. Capitol in Washington, D.C.
Kimsey rounded up other items from storage or from donations from the community. There's the dedication plaque and a brick from the old school building, which opened in 1924 and was razed in 1983. And there's also an old pen-and-ink sketch of that building, which Kimsey had framed.
She found some memorabilia related to the school's 1962 state championship boys basketball team in an old shed workers tore down a few years ago. That includes a basketball signed by then-coach Roger Moore and all the team members. She also located an old license plate commemorating the win.
A distant relative of Kimsey's donated a 1941 Colfax letter sweater — blue and burgundy, with a giant C in the middle. Beautiful, but scratchy, Kimsey reports. (Historical footnote: The school's colors later became red and white, the legend goes, because Moore was a fan of N.C. State).
The history cabinet also contains the definitive text on the school's history. "Colfax School Reflections" was written by Gail Gray Lawson, a member of the last graduating class from the school's days housing all 12 grades.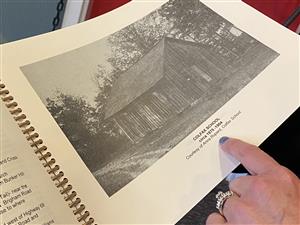 There was one item from the school's history — now part of Kimsey's personal collection — that she simply couldn't bear to donate to the history cabinet: her great-aunt's 1935 class ring.
"I wore it to interview (for assistant principal) here, and I kind of consider it my good luck charm," she said.
Today, the Colfax community remains small, but the elementary school is no longer filled with families whose lineages go back for generations. Some of the school's 600 students recently moved to the area because their moms and dads work for nearby Volvo or HondaJet, Kimsey said. But Kimsey's kin likely will always be part of the school's history.
Case in point: She recently hired her cousin's wife to teach kindergarten.