Michael Parrish Endowment for Arts Education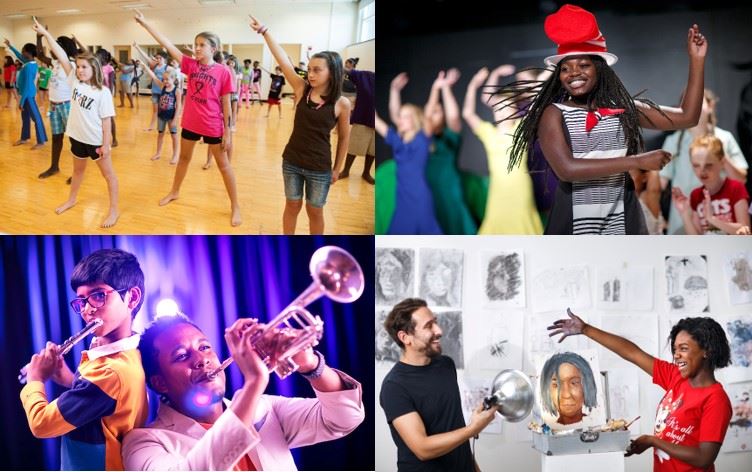 ABOUT ENDOWMENT:

The MICHAEL PARRISH ENDOWMENT FOR ARTS EDUCATION, established in November 2016, and is made possible through the generous donation of former Guilford County Schools student, Denise Descouzis. This Endowment is administered by the Community Foundation of Greater Greensboro (CFGG) as an endowed fund under the Foundation's guidelines. Spendable income from the Endowment is available annually to Guilford County Schools Fine Arts Department (GCS Arts) from the Foundation.

Funds may be used to facilitate arts engagement and enhance arts opportunities in all art forms (music, theatre, visual art and dance) afforded Guilford County Schools (GCS) students grades K-12 and the communities in which they serve. It is a goal of the Endowment to fund at least one grant each for an elementary, middle school and high school project. To receive funds, teachers/students must competitively submit mini-grant proposals for innovative projects that include an outreach component. Priority is given to projects that include an additional interactive component as well. Grant applications are adjudicated by a committee made up of arts administrators in the Greensboro and High Point communities.

Denise Paulette Descouzis

Denise Paulette Descouzis, M.A., was born on March 26, 1956 with a significant heart defect. She was not expected to live past age 2. Denise, however, defied medical predictions and thrived, leading a relatively normal life, and was highly involved in music, theater and dance, maintaining a virtual 4.0 scholastic average through graduate school.


Denise received her undergraduate degree in Speech Pathology at UNCG in 1977, and proceeded to become an Audiologist, practicing for over 35 years. She realized that her passion was not only supervising graduate students in Audiology practicum, but also the leadership opportunities presented to her during her entire life, from leadership positions in many organizations, to directing high school plays in her teens, then to directing a Youth Choir for 30 years. "The ripples" in the water of life in education count - a lot.

Michael Parrish

Michael Parrish, M.Ed., received his undergraduate and graduate degrees in Theater Education and Communication at UNC-G. In 1973 he began his career as the drama teacher for Grimsley High School, where he had the pleasure of working with Denise in his directing debut.

Michael was appointed to the advance leadership team tasked with logistic and curriculum design to found the Weaver Academy in 1978, where he was the first Chair of the Performing Arts Dept. In 1992, he became the Distance Learning Coordinator for Guilford County School's unique participation in the North Carolina Information High-way, building and supervising 17 distance learning labs, working with all the GCS high schools and GTCC.

For the final act of his career, he returned to the classroom for eight years at Page HS to reprise his first love, teaching and directing. 2010 marked his retirement, with 37 years of joy and fond memories of the students who so deeply touched his life and career.

ENDOWMENT COMMITTEE:

Michaeline Parrish, Committee Member


Michaeline Wright Parrish grew up in Birmingham, Alabama and is the oldest of four children and likely the most dramatic. During her undergraduate experience, she majored in theatre and English and spent 2 years teaching 8th grade while conducting drama classes for Birmingham Children's Theatre.

Life then brought her to the University of North Carolina at Greensboro where she did her graduate work and majored in Child Drama. After a brief stint teaching back home in Birmingham, Michaeline returned to Greensboro to create a program for artistically gifted children for Greensboro City Schools and performed in many community theatre productions. Three years later she began an 11-year run teaching academically gifted students until the first arts elementary magnet opened at David Jones Elementary School where she taught drama for 9 years.

Michaeline took a 3-year break from the classroom and taught technology courses for Guilford County teachers. She returned to the classroom for her last 14 years before retiring from GCS in 2015. Since retiring she has been the Lower School Theatre Director for Greensboro Day School. She continues to perform, singing with Triad Pride Performing Arts Women's Chorus.

Adam Carlin, Committee Member

Adam Carlin is the Director of Community Engagement for the College of Visual and Performing Arts at UNC Greensboro where he supports and advocates for community engaged programs led by students and faculty and advances partnerships between the CVPA and the community. Carlin is also the Director of Greensboro Project Space, an off-campus contemporary art center in Downtown Greensboro that acts as a bridge between students and faculty in UNC Greensboro's School of Art and the Greensboro community. Carlin also teaches about art as social change and participatory practices in the CVPA's Interdisciplinary Art and Social Practice Minor in addition to a cross-disciplinary course about arts entrepreneurship. He has a BFA from California College of the Arts and an MFA in Art and Social Practice from Portland State University. Carlin has curated public programs or was a guest lecturer at places like the Queens Museum, Universität der Künste Berlin, UMass Dartmouth, Portland City Hall, Elsewhere Living Museum, ZERO1 Museum, Georgia State University, and The Mondavi Center at UC Davis. He has received grants from the Andy Warhol Foundation, the National Endowment for the Arts, the Mellon Foundation, the Joseph M. Bryan Foundation, and more.

Maria-Elena Surprenant, Committee Member

Maria-Elena Surprenant is from Charlotte, North Carolina and has danced for over twenty years. She studied dance at Charlotte School of Ballet and has trained and performed with the Charlotte City Ballet, Terranova Dance Theatre, the Greensboro Opera and for other various organizations. She received her B.A. in Dance from the University of North Carolina at Greensboro, Masters in Entrepreneurship from Western Carolina University, and is certified in American Ballet Theatre's National Teaching Curriculum (pre-primary-level 3). Mrs. Surprenant is currently the Fine Arts Grants Curator for Guilford County Schools, and looks forward to advancing GCS Arts' mission and vision. Prior to working for GCS, Maria-Elena worked as the Music Administrative Assistant at Lawndale Baptist Church, and was the choreographer for their annual Greensboro Christmas Spectacular. Aside from performing, teaching and working in arts administration, she also enjoys serving on the board for Greensboro Performing Arts' non-profit Rep 336, and is a part of ArtsGreensboro's Task Force group.

Maria-Elena believes in the power of the arts, and in investing in the next generation of artists and supporters of the arts. Most importantly, she believes in adding lasting value to students' lives that go beyond the arts, and has a deep care for the community. She is currently helping create and launch an arts entity for GCS Arts, in hopes of creating sustainability for arts education programming in the public school system.

GRANT APPLICATION PROCESS:

The Michael Parrish Endowment for Arts Education is looking for innovative, purposeful projects that facilitate arts engagement and enhance arts opportunities in all art forms (music, theatre, visual art and dance). All GCS K-12 students are welcome to apply. Applicants must include a GCS student with the sponsorship of their teacher. High school students can apply if they have a teacher letter. Elementary and middle school teachers can directly apply and collaborate with their students.

The purposes for which funds may be used include but are not limited to:

types of outreach (social media, CDs, DVDs, transportation, performances, etc.) for impacted school children that include an interactive component
hands-on projects at destination school(s) involving impacted school children
feedback/reports from students and schools benefitting from this Endowment

Guilford County Schools employees and students are not eligible to receive funds payable to themselves.

For this inaugural year an additional gift makes it possible to fund a minimum of 15 grants. The application cycle occurs in the fall and spring semesters each school year. The first grant cycle deadline has been extended to midnight on Monday, January 4, 2021. The adjudication committee will review proposals and notification of grant awards will be shared by Monday, January 18, 2021.

Applications may be submitted electronically or in hard copy by the deadline. Electronic applications must be in one PDF file and emailed to GCS Fine Arts Grants Curator, Maria-Elena Surprenant, at surprem@gcsnc.com. If a hard copy is submitted, only one copy should be provided to the GCS Arts Department (attn: Maria-Elena Surprenant), 501 W. Washington St., Greensboro, NC, 27401. Faxed and late applications will not be accepted.

Questions regarding the application process may be directed to Maria-Elena Surprenant at surprem@gcsnc.com.

Grant Application: HERE

WANT TO DONATE?:

Donations can be made via check or online. Checks can be made out to "Community Foundation of Greater Greensboro" with "Michael Parrish Endowment" in the memo line, and are to be mailed to 330 S. Greene Street, Suite 100, Greensboro, NC 27401.

Online donations can be made here.