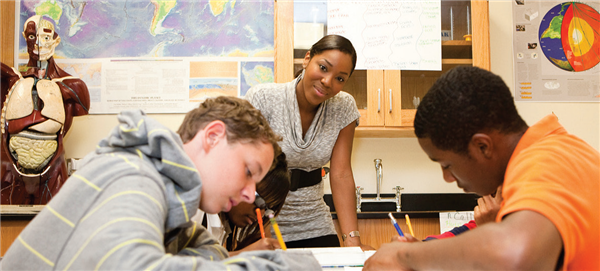 Andrews High is proud to offer the Early College Academy of Health Sciences.
Students in the program select a rigorous high school curriculum during their freshman, sophomore and junior years which prepares them to take first-year college courses, earning dual credit, as a high school senior and a college student. GCS pays for tuition and non-consumable text books and will make a reasonable effort to provide school bus transportation to campuses.

During the student's senior year, he or she is awarded a scholarship equivalent to tuition and books at Guilford Technical Community College. Students must apply and be admitted by GTCC in order to receive the scholarship.

Andrews Early College of Health Sciences offers an opportunity for motivated students to prepare for a future career in the field of health sciences to include nursing, biotechnology, respiratory therapy, physical therapy, pharmacy or medicine to name a few. Students will have the opportunity to participate in internships to gain practical experience in their field of interest.

Early College Academy students may also be afforded the opportunity to earn certifications (CNA, pharmacy tech, etc.) through our program. Those who take full advantage of the senior dual-enrollment year avail themselves to the benefits of gaining exposure to the college experience; exhibiting high scholarship potential to their choice college; earning college credit hours; and engaging in a challenging environment that stimulates learning, encourages academic development, and perpetuates maturity. Students who complete the early college program earn an Early College diploma in addition to the GCS diploma.